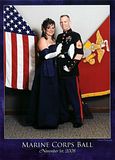 Our professional Ball pictures came in! You can click on the thumbnail for a larger image.

We've had SNOW upon SNOW upon SNOW here. ugh... got snowed in all weekend because the plows do not take care of side roads until several days later. Our van was stuck until hubby shoveled it out. And we're expecting another 10 inches or so.. so far we've gotten several feet or more and our area is very sheltered and nothing blows away.. it just all collects!

I've decided to take a couple day's break since we had a small fellowship party at our house on Sat and I wanted to eat tacos & a few other goodies. My weight is at 160 this morning and I completely expected that. I am not sure when I'll go back on protocol.

Hubby is at 153 and bounces btwn 153 and 149 so that is a good sign that he's stabalized pretty well.